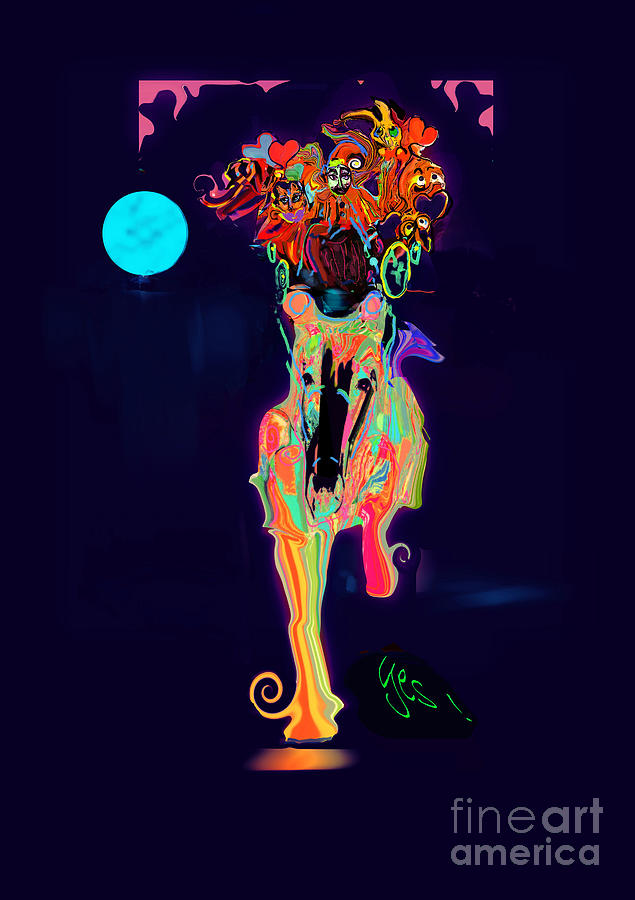 Title
Yes to Magic and Hayrides
Medium
Mixed Media - Paintings To Photo-art, Digital Mixed Media
Description
"YES! to Magic Pumpkin Hayrides" is a figurative abstraction piece created right here in my studio in Asheville, North Carolina . It started out as a PHOTO but quickly made its way through photo-manipulation – (and my imagination) - to tell a story of the wonderful mysteries of hearts and flowers and love of life. As such, it invites your interpretation. You may note under the horse's hoof the single word, "YES!"


Honored to be FEATURED
in the following outstanding GALLERY
groups at Fine Art America:


Contemporary
Arts Fantastic World
Collectors Gallery
Abstract Geek and SciFi
Emotive At
I Smile for You Today-Collage Art
Images That Excite You
Paints and Art Photography
Paintography
Our 4-Legged Friends
Out of the Ordinary
Bedroom Art Gallery
NEW FAA Uploads
Bright Fluorescent Artworks
Semi-Abstract
The Mind's Eye
10 PLUS
FAA Gallery for All Artists Who Create
ARR Gallery
Arts Blogosphere


THANK YOU for looking and considering my art work and images. Your time and your comments are prized! I appreciate your comments, social media support,
and visits today –(and tomorrow.). (((*:*)) .




If you enjoy counting simple pleasures -say "YES!" when you experience them, then this, and the following members of the gallery collection, could be for you. "YES!" is a series created to remind us of life-affirming experiences. It began as message art for cards and posters, but you may wish to add it to your décor.



This new media –contemporary narrative art– ( combinations of pencil, ink, paint, photo work and textured applications) – here unfolds in a "collage" of color and texture. Whether on paper, canvas, or as a digital rendering, the result is "contemporary mixed media art" that celebrates nature with a nod to joie de vivre.


SYMBOLISM:: In this paintography piece, the juxtaposition of color with changing light symbolizes positive change. Look for creative perspectives. Represented here is a story of connection, an impetus for change with compassion.

FOR VIEWERS:: I hope you will find a connection here - linger awhile, possibly start a conversation about the elements - spaces, lines, textures and rhythms or themes that speak to you. As we - each of us- (and also as a collection of living creatures) - face the fraught process of selection every day- may we find what is positive and possible. When you visit my website or studio in Asheville, North Carolina – you may discover that I love to tell stories- visual stories, that is.

MY METHOD:: I create visual narratives exploring any number of alternative techniques to achieve a shared sense , with you, of being "in the moment" -- (composite and/or multiple layering of images-photo-manipulation and finally digital rendering)—

From what is around me, I take my sketches into canvas work, then take a photo creating a mixed media digital rendering such as what you see in this piece. I reach out for the story and metaphor via texture, patterns, repetition - a feeling of lyrical abstraction of elements offering a sense of collaboration - a collection of concepts and forms taking shape.

MY PHILOSOPHY: "NOT AN IMAGE BUT AN EXPERIENCE"--
As we - each of us- (and as a collection of living creatures) - face the fraught process of selection every day- may we find what is positive and possible. "Perception is everything in art. The artist goal is to influence the viewer to see the world as the artist does. This can change the viewers mood, their mind, their outlook - even if only for a limited time." Lutz Baar




FIND ZSANAN ON
Facebook: https://www.facebook.com/AshevilleStudio/
Pinterest: https://www.pinterest.com/whitehair365/
Twitter: https://twitter.com/silverysage

#Modern Impressionism #Narrative, and #Digital #Paintography with a Twist
#FeaturedArt #contemporary #mixedMediaArt #abstract #abstractExpressionist #ZsananArt #ashevilleArtist and #Art4TheOther ...

Thanks for looking! Your time and your comments are prized!

Sale on canvas prints! Use code ABCXYZ at checkout for a special discount!


Uploaded
October 8th, 2019
Statistics
Viewed 1,135 Times - Last Visitor from White Plains, NY on 12/09/2023 at 5:24 AM